It was a wonderful  evening  in September and I was staying at a bed and breakfast nearby Gouda. The next day I had to sing the solo part of Mendelssohn Elijah in Gouda's big church.
Seeds like juniper berries
The bed and breakfast was located on a former tree nursery and Jan, the owner, guided me round and suddenly we were standing in front  of a large plant with trumpet like, lovely smelling, flowers.
"Do you know the name of this plant" I asked him but his answer was negative. Jan gave me some seeds which looked like juniper berries.  I went to my bed and breakfast room and put the seeds in a plastic box and carried them home after my concert performance. For years the box was stored in a drawer and I totally forgot the seeds.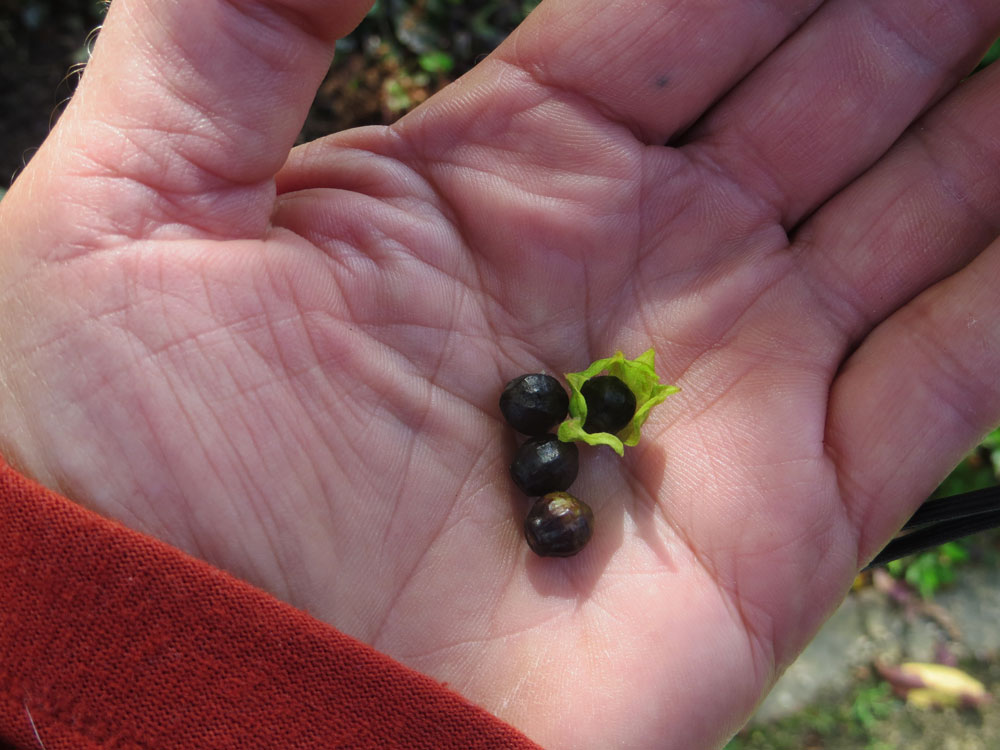 The seeds of the mirabilis plant resemble those of the juniperus.
Finally this spring I put them in fresh seed soil but didn't really had any expectations that these bone-dry seeds would germinate at all. But a miracle took place, for after a short time tiny seedlings starting to sprout. The intended position for this plant was to temporarily fill some gaps in the American Garden for which they are extremely suitable. A wonderful fast growing plant but I still didn't know its name.
"I didn't really have any expectations that these bone-dry seeds would germinate."
It was actually a Dutch lady who visited our garden and told me that we had some beautiful Mirabilis jalapa in our garden. This reliable performer opens its flowers in the late afternoon and is therefore called Tea time plant. Because the Germans prefer to drink coffee in the afternoon they had to look for another name and they call it Wunderblume (Mirabilis means wonderful).
Although the name jalapa comes from the capital of Veracruz in Mexico this plant hails from tropical South America.  Its sweet-smelling flowers bloom all through the night to attract long-tongued moths and close during the morning. Every flower shows its wonder only one night but that doesn't mind because it is loaded with bloom.
Mirabilis jalapa with closed flowers.
Photograph by Frank Fritschy
Here in Viller the plant should be called Dinner Plant for the flowers are opening at 6.00 pm and even a slightly later but the reason can be easily explained. We have Central  European Time  (CET) which is one hour later than Greenwich Mean Time  (GMT) and it was called Tea Time Plant in a period when Daylight Saving Time still had to be invented.