Operation 'Veritable' started on February 8. 1945 and was one of the many attempts to liberate Europe from the Nazis. Traces of this hard battle are still to be found within a few miles from Viller the Garden.
The 154 Brigade of the 51 Highland division is responsible for the damages on the wall of our neighbour's barn during their move to take Hassum. But a real tragedy took place only a few miles from Viller the Garden.
Near an old anglers-club shed a US Bomber 'Heaven can wait' was shot down on September 18. 1944 during operation Market Garden and crashed in the river Kendel. The place is marked by this commemoration plaque. The body of Claude T. Lovelace was never found and regularly relatives from the States are visiting Viller hoping to find the mortal remains of the deceased.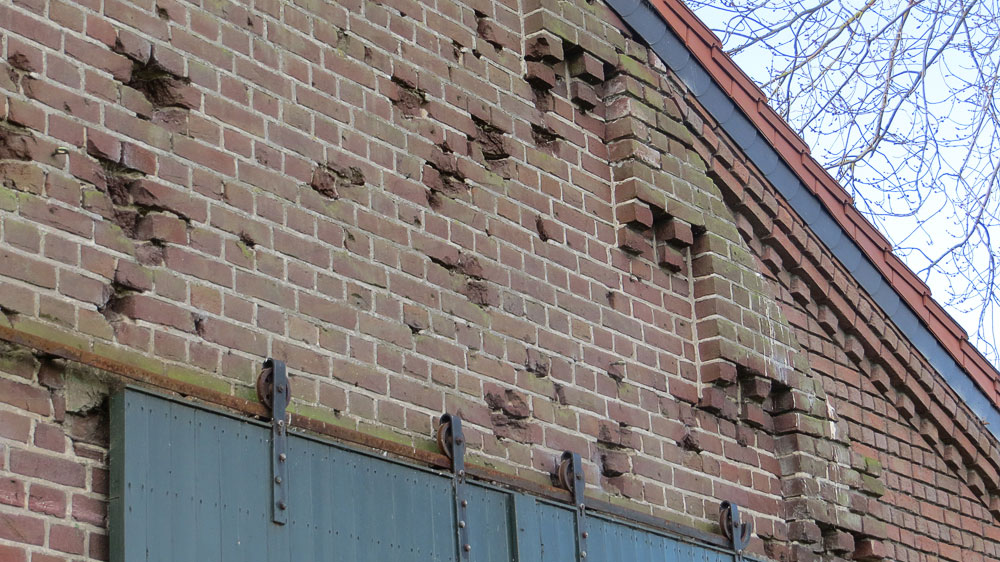 Damage to the wall of my neighbour's barn.
Photograph by Frank Fritschy
Samuel  Syracuse from the 489. Bomb Group mentions the crash in his Mission Diaries:
"…The entire area was jammed with gliders, some cracked up in landing. There were also hundreds of parachutes dotting the countryside, truly a sight to remember. We got back to the field and saw many ships firing red flares — wounded aboard we knew. Capt. White had gone down and also Lt. Lovelace…"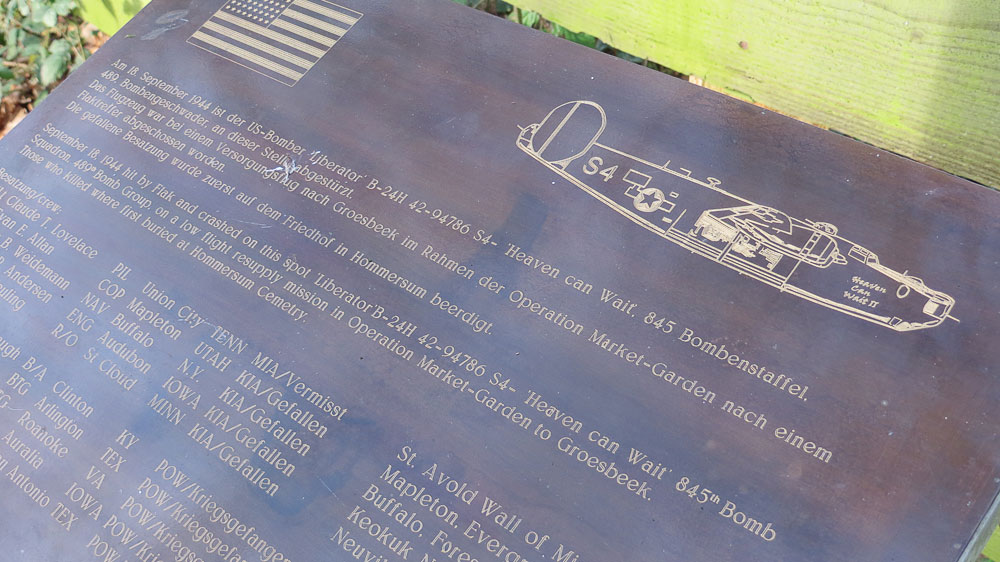 The commemorative plaque near the place where the US Bomber crashed
Photograph by Frank Fritschy
The Monastery of Graefenthal
The monastery of Graefenthal dates from 1251 and founded by Count Otto II of Geldern in order to accommodate a Cistercian order. Viller once belonged to Graefenthal. In 1802 it was secularized by the French. This is probably also the same time that the chapel of our adjacent Kapellenhof here in Viller was demolished.
Unfortunately, the municipality of Goch sold its one and only important monument in 2004 to a Dutch investor and was in the past infrequently open to the public. Now you are able to visit the café of the monastery daily from 11.00 – 5 pm.
The remains of house Driesberg which was founded around 1392 consists of two towers.  It was probably built in the eighteenth century. The remains are part of a castle which was completely demolished in 1831. The remains are private and not open to the public.
Haus Driesberg near Kessel Germany
Photograph by Frank Fritschy