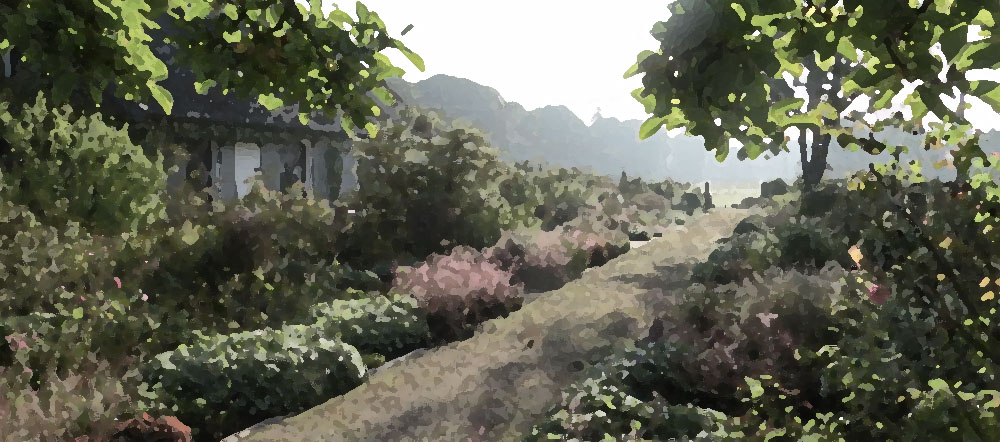 V

iller the Garden is one of the private gardens here at the Niederrhein which are open to the public. It was designed by Frank Fritschy and is situated at the northernmost German section of the river Rhine just across the Dutch border. You can visit the garden on special days during the summer (see: Plan your Visit). In August the garden is closed.
In my design of Viller the Garden I have been looking to find a balance between the intimate feeling of refuge and the fabulous views of the landscape. Above all, it is a green design where all plants are centre staged. By planting three layers (trees, shrubs and ground covering plants) we have been creating a wonderful habitat for all kind of animals. This diversity of plants is not only a nice opportunity for me to get to know a lot of plants but also the best way to report on them in blog posts. At the same time, this divers green concept leads to a period where gardens were an essential part of everyday life.
Contrary to what is expected from a designer to look forward, I draw my inspiration from the past and especially from the Arts and Crafts designers. These designers were inspired by the humble cottage gardens of the countryside where care and love for plants had priority. As a result, my wife Dorothee and I joined the Offene Gärten Kleverland to share this dignity and care for plants and to open our cherished gem to the public.
"A tribute to those who invented the modern private garden"
A reference to the grand era of garden making
Due to this love for the past, I pay with my design a tribute to the grand era of garden making. This gardens which Jane Brown strikingly calls the "Gardens Of a Golden Afternoon" are not only inspiring for me but in my opinion also for all garden designers afterwards.
The main feature in these gardens, dating from the period prior to the first World War, forms a long border. Gertrude Jekyll, the grandmother of all modern private gardens made a 200 feet long border at Munstead Wood, the place where she lived. The Long Border here in Viller measures only 115 feet (35m) but has flowers on both sides. Therefore it forms a nice opportunity for me to become familiar with the growing conditions of a lot of plants and to take up the challenge to keep them flowering during the summer months.
The 2023 garden season starts on Pentecost May 28th.