Upcycling and recycling are nowadays hot items. People are aware of the fact that we have to change our behavior to save this planet.
In our project we reused old concrete brick stones and placed them upside down. Old poles to support fruit trees were used to subdivide varies parts of the garden. If needed existing shrubs were transplanted.
We upcycled old railway sleepers made out of Dutch Oak and probably part of the railroad track from Gennep (The Netherlands) to Goch (Germany). On the sleepers, we attached ten Italian made water taps. The sleepers were still in use during the fifties of the last century as indicated by the small inspection plaques with the year that they were produced. But most noteworthy they have a lovely weathered look.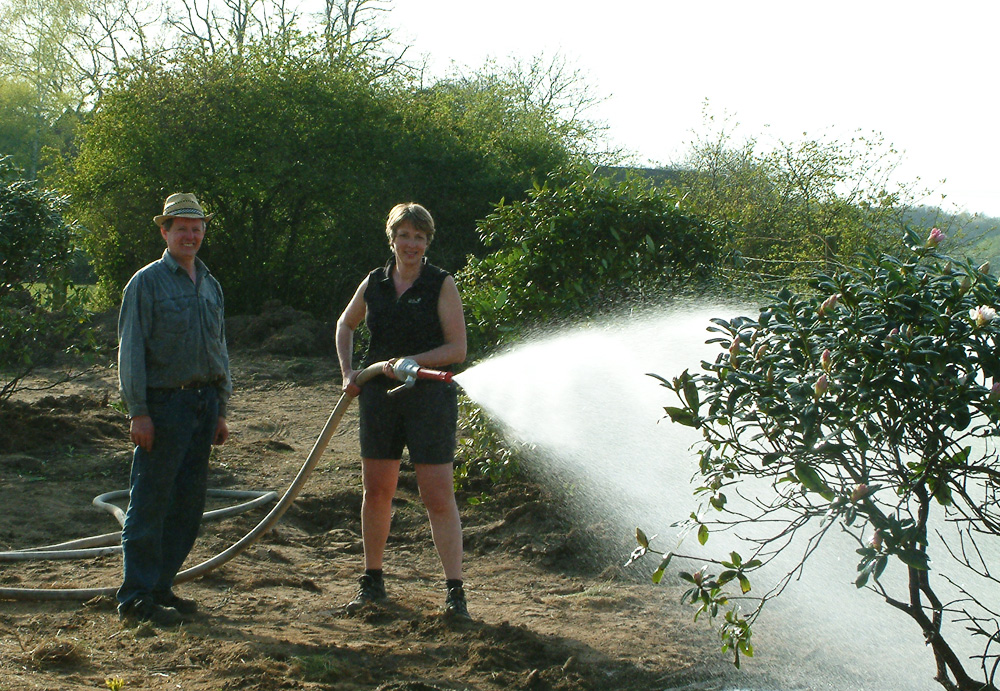 Transplanting over twenty Rhododendrons.
Transplanting  Rhododendron shrubs
The former inhabitants planted over 20 Rhododendrons and at the time we were laying out the garden they were already over 5 feet (1.50m) tall. Although growing Rhododendrons was not my first choice it would be more than a pity to throw them all on the compost heap. Standing on soil with an acidity of pH 7 and placed on the rubble near the walls of our house they were not in prime condition. As a result, we transplanted them in 2010 to a part of the garden that suited them better. Furthermore, we planted the Rhododendrons in clumps to disguise the awkward triangular form of the American Garden.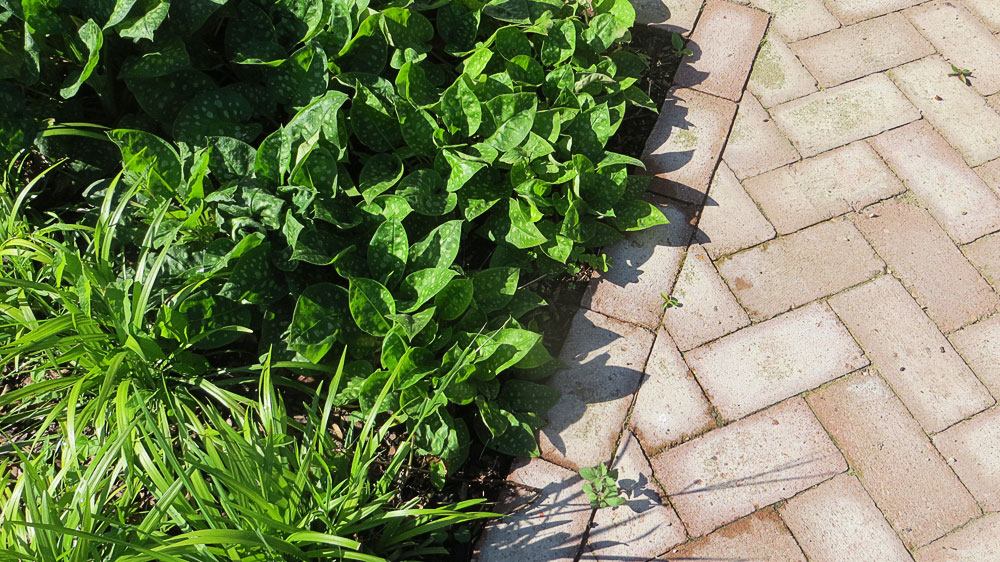 Edwin Lutyens' Dutch Paving pattern made from old concrete brick stones placed upside down.
Photograph by Frank Fritschy
Reusing concrete brick stones
Our drive (200 feet)was made out of brick stones which in my opinion was not reflecting the pastoral neighbourhood. We used them upside down and up-cycled them as border stones for paths. On terraces, they were paved in Luytens famous Dutch Paving pattern. Herring-bone paving is an often used pattern in Dutch streets and is very strong for driveways. Edwin Luytens though turned this pattern 90 degrees in order to achieve a sense of depth.