Main squares in cities can be a nasty place to visit. They are mostly overcrowded with parked cars. Most of all squares are surrounded by shops where booming loud music tried to invite people to buy things they seldom need. Kevelaer public main square with its green canopy of linden trees though is a very inviting place.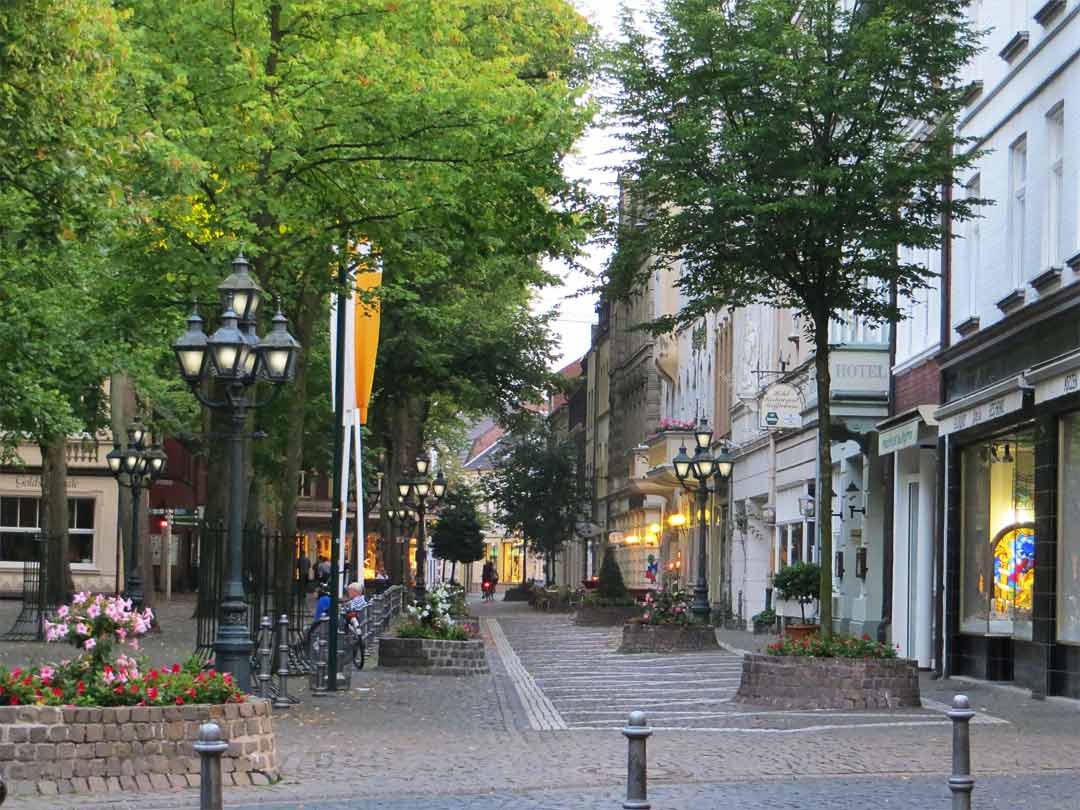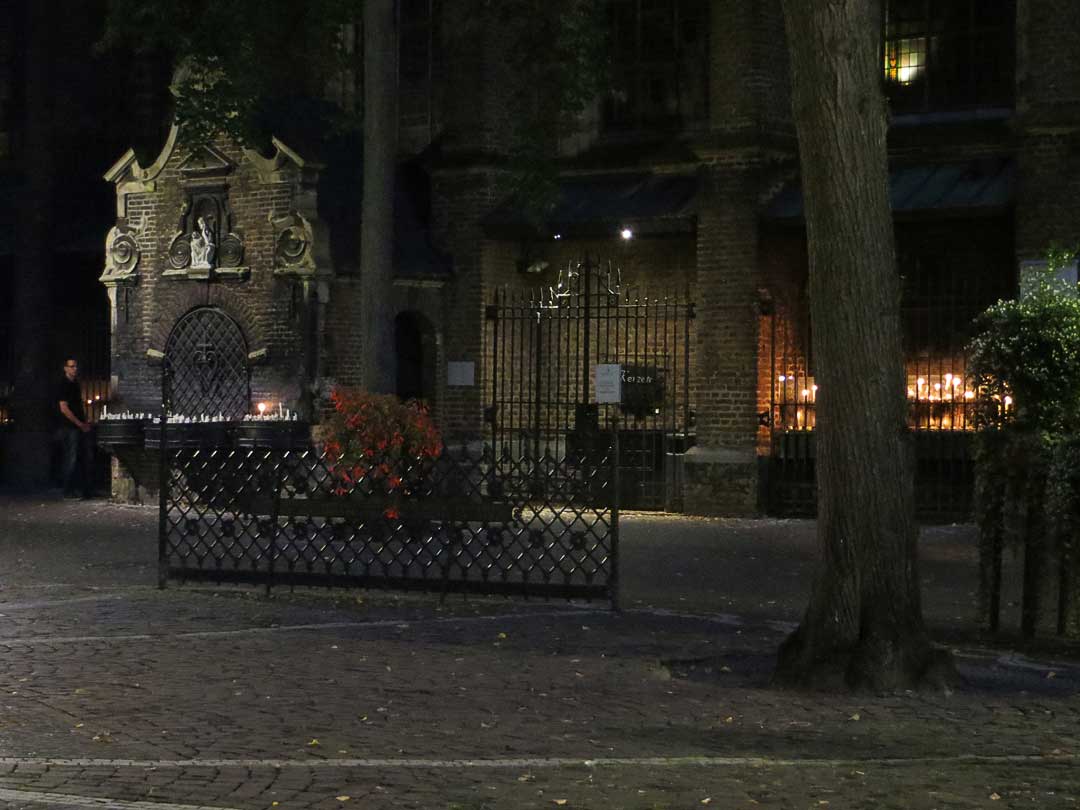 "What is Kevelaers secret and what makes this  public square so special?"
Ugly cities am Niederrhein
Here at Niederrhein, where we live, sadly you will find a lot of ugly city centres. Bombed at the end of World War II and tastelessly rebuild they are wisely omitted in most tourist guides.  Places like Emmerich and Goch are, due to online shopping and lack of creativity, growing into a kind of ghost towns. Once a week though market stalls improve the situation a little. Bustle and vitality are returning for a short moment.
No wonder tourist guides don't mention places like Goch and Emmerich
Squares are mostly open places and pedestrians seldom cross them diagonally. People prefer to stay close to the facades of the houses and shops. This is often the spot where a row of trees gives some shade on a hot sunny day. Furthermore, they form a precious addition to conceal the stone fronts of the dull houses.
The main square Kevelaer city is completely different. It is scattered with linden trees and cars are banned. Granit cobble stones reinforce its natural character. In addition, all these trees give pedestrians a secure feeling to cross this square all over the place.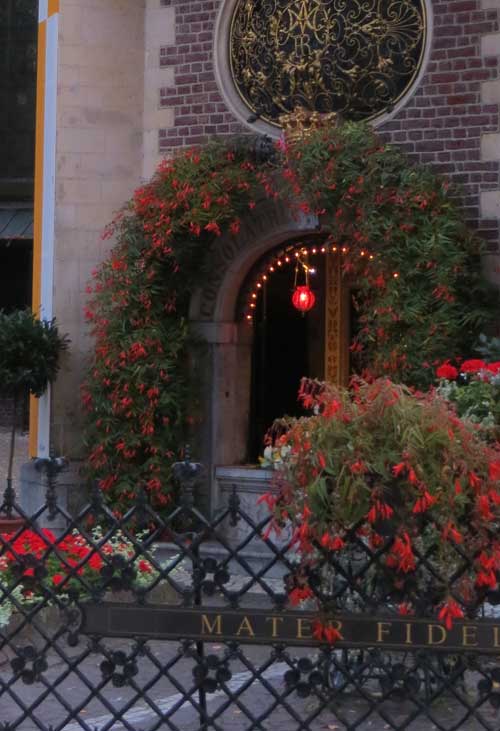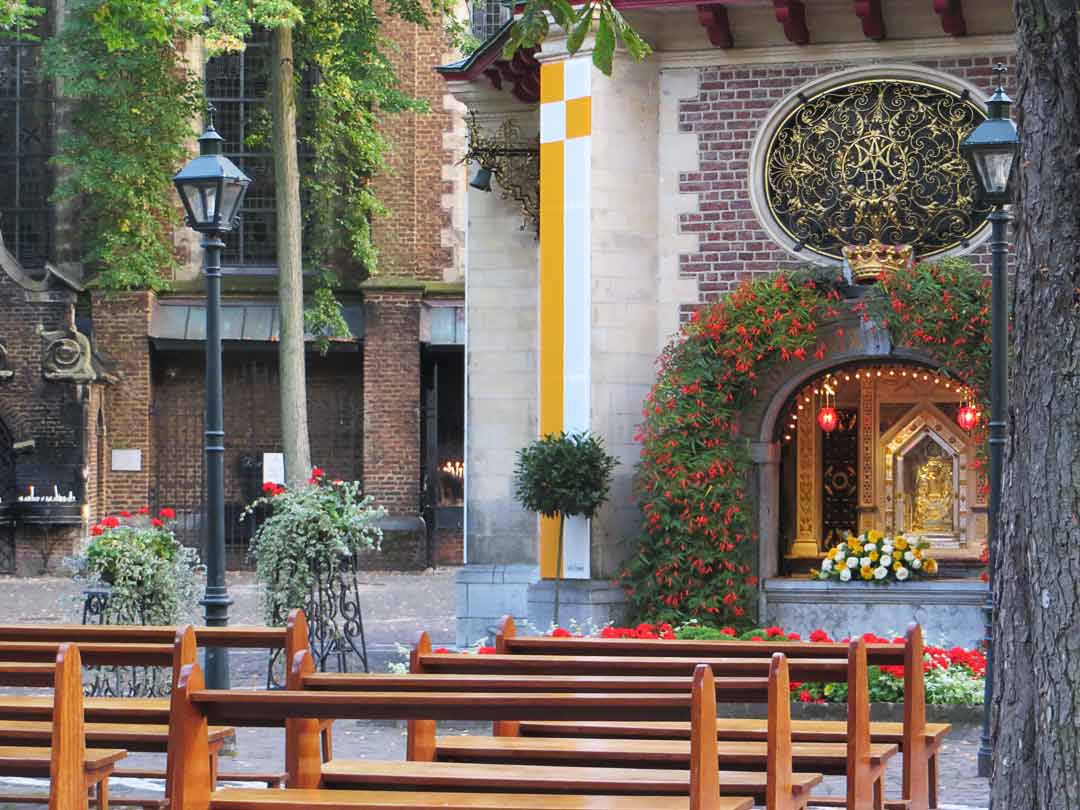 Begonia beauvillia at the Gnadenkapelle Kevelaer
Photograph by Frank Fritschy
Some houses are covered with Parthenocissus tricuspidata (Boston ivy) and hanging baskets are all around. These baskets can sometimes be kitschy, at the same time they reflect the love for flowers and the continuing commitment to care for them and show them at their very best.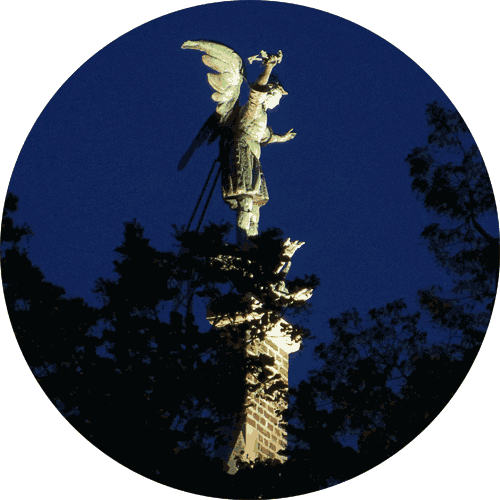 Angel on top of the Kerzenkapelle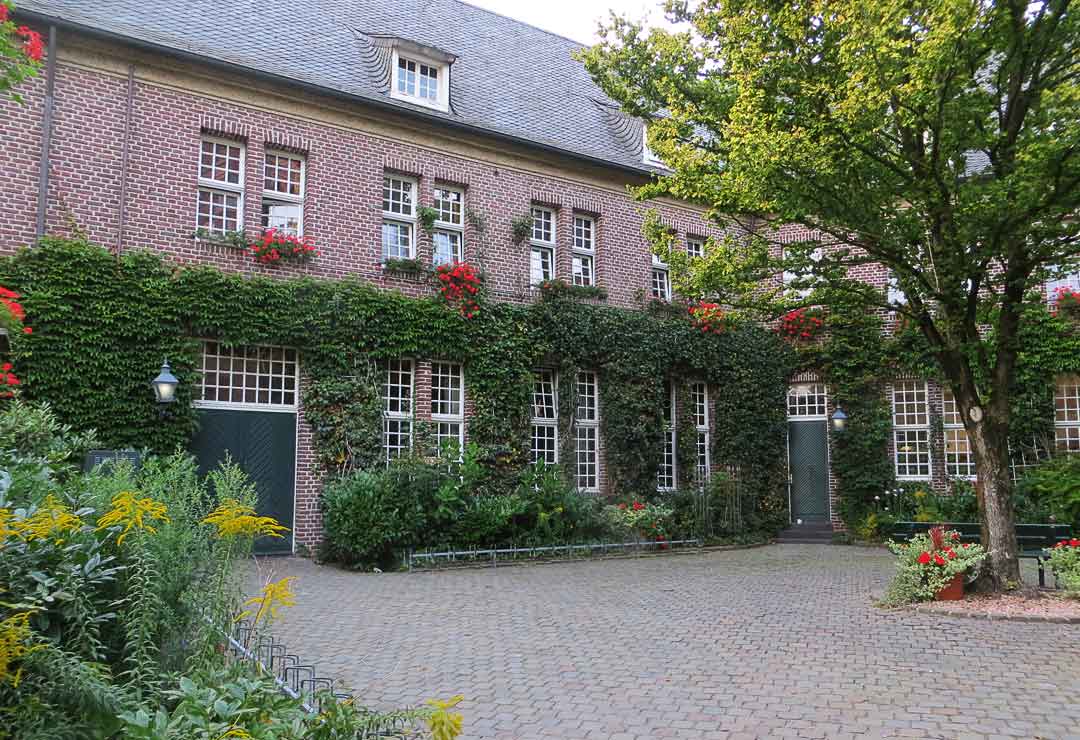 Boston ivy (Parthenocissus tricuspidata) covering the walls of the Pilgrim house at Kevelaer
Its main landmark, the high tower of the imposing pilgrimage church, can be seen from whatever direction you approach the town and draw all the visitors to the main square. In the summertime, we are often visiting Kevelaer to drink an espresso on Petra's terrace and to watch the foot traffic, to enjoy the dappled shade of the trees to hear the murmur and praying of the pilgrims. No annoying music from shops or cafes but just tingling bells. When darkness sets in you can still watch all the oscillating flames of the candles or hear soft singing during a procession.
What is Kevelaer's secret and makes this public square so special? Is it its sacredness or the lime canopy of the many trees or maybe both? God knows.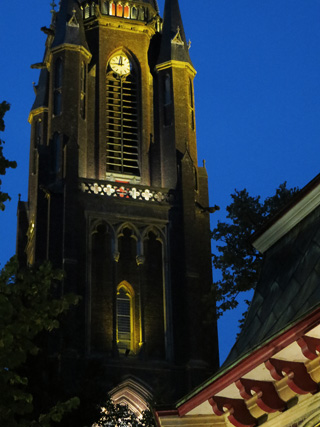 Its main landmark, the high tower of the imposing pilgrimage church, can be seen from whatever direction you approach the town.