Many roses are named after important people whose names sank into oblivion. Yet the name of this lovely white climber can be easily traced. In short: may I introduce you to Mr. Bobbie James.
The honourable Robert James preserved many lovely roses in his garden at St Nicolas in Richmond in the county of Yorkshire. He was highly valued by his friend Graham Stuart Thomas, author of the famous Rose Book. Graham paid a tribute to Robert by calling an unnamed foundling: Rosa 'Bobbie James'. This Rambler Rose 'is extremely vigorous' and to continue the words of Stuart Thomas: 'with large, long-pointed, fresh green, glossy foliage and large heads of creamy white flowers.'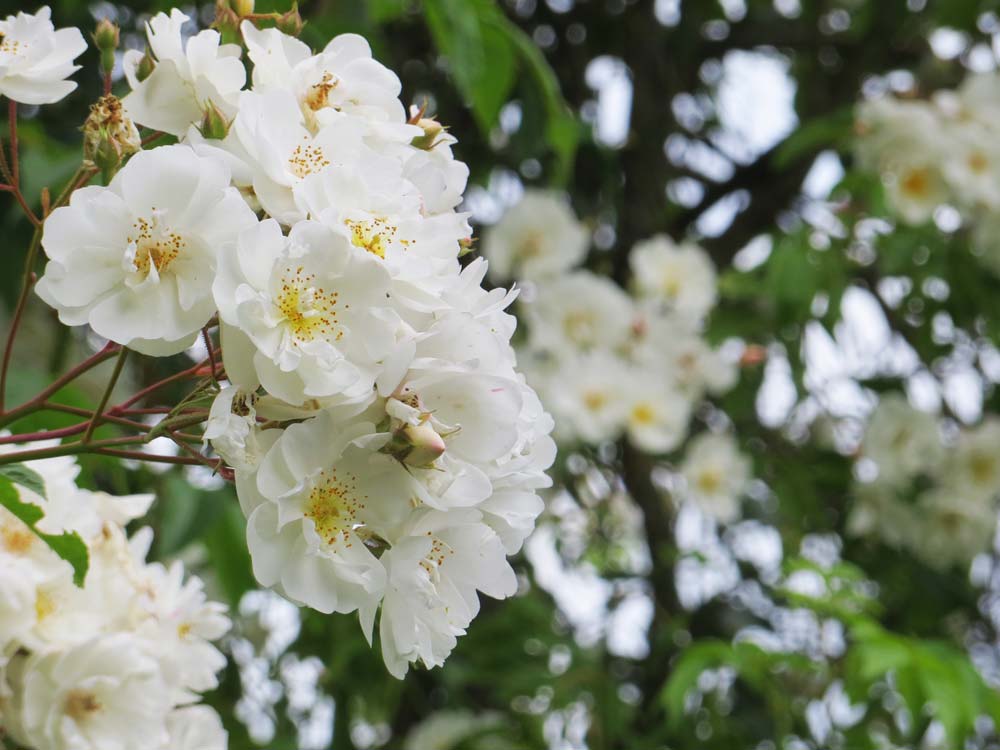 Rosa Bobby James in full bloom
Photograph by Frank Fritschy
"It completely covered an old declining plum tree"
This morning coming from the American Garden and passing the white oak (Quercus robur) I could already sniff the glorious smell of this marvellous climber at a distance of more than 50 feet. We planted it 7 years ago and it completely covered an old declining plum tree. Right now sunset turns it creamy colour into a warm apricot and I took my camera to capture this unforgettable scene.
The Graham Stuart Thomas Rose Book
Information on the history of roses can be found in Graham Stuart Thomas Rose Book. This opus magnum of Thomas is an in-depth study of this lovely flower.