The plants in our garden are growing and blooming and we like to welcome you on Ascension Day and on all the days listed below. Our garden is big enough to keep the appropriate distance.
 At this moment though we are not allowed to serve refreshments
Our Garden is open from 11-5pm on the following days:
21st May  (Ascension Day)
Sunday 24th May
31st May (Pentecost Sunday)
1st June (Pentecost Monday)
Sunday 7th June
11th June (Corpus Christi)
Sunday 14th June
Sunday 21th June
Sunday 28th June
Sunday   5th July
Sunday 12th July
Sunday 19th July
Sunday 13th September
Sunday 20th September
Sunday 27th September
Admission € 3
Children under 12 years free of charge
Adress:
Viller the Garden
Kapellenhofstrasse 58
47574 Goch Viller
Tel 02827 924218
Traveling to Viller the Garden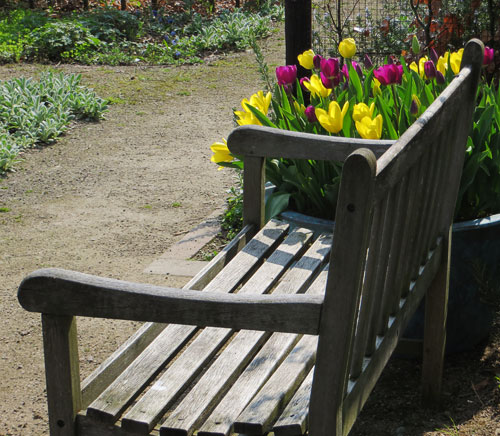 By train: The nearest station is Goch.
No bus: unfortunately there is no bus service on Sunday's and public holidays.
By Taxi: One can to call for a Taxibus instead: 01 80 10 / 47 5 74 (30 minutes in advance)
but better is to call the ordinary taxi (0 28 23) 37 38.
By car:
See Google maps.
Nearest Village is Kessel which is along the B504. Coming from Kranenburg down the B 504 turn right after you cross the river Niers into the Driesbergstrasse. The next street on the right is the Kapellenhofstrasse.
Coming from Goch down the B504 turn left to Hassum (Driesbergstrasse) The next street on the right is the Kapellenhofstrasse.
Garden Café
Refreshments are available in our Garden Café. We offer freshly ground coffee, a selection of teas, cold drinks and cakes or toast.
Parking
One can park the car along the broad public road (Kapellenhofstrasse).
Wheelchairs
We have hardened paths and the smallest are more than 3 feet (1m) . The paths in the American Garden are sandy. There are some shallow steps but we can assist you during your stay.
You have good access to our Garden Café but we don't have a special toilet for disabled people.
It is possible to Viller the Garden with groups or Garden clubs outside normal opening times. For more information call +49 2827 924218